Excited howls summoned me back to the land of the living, a desire to meet up with my fellow werewolves Stacey Mewse and Lauren Womack battling the early morning grogginess and driving me from my bed, and the screams of potential victims calling to me from beyond my Yorkshire territory. After months of planning and preparing for our first joint venture, the time had finally come. Birmingham Horror Con was upon us.
Traders had to be set up and ready for the early bird customers arriving at 9am on the day of the con, which meant travelling the day before and spending two nights in Birmingham. I rarely see before 10am these days, let alone 9am, so it was something of a relief that the organisers were letting us set up the night before. It meant we didn't have to be there too early on the Sat and we only had to worry about getting there in good time for the first of the early birds coming in, rather than having a mad rush to display everything on our shared table. So the plan was to meet at the hotel mid-afternoon and then head to the venue and prepare for the con the next day, then have a nice pack meal somewhere before retreating back to our room and getting an earlyish night. Of course, we all know what they say about the best laid plans.
To be fair, nothing went massively wrong. But I was very late setting off and with it being the biggest event I've done so far as a trader, I had no idea what to expect for sales and thought it'd be better to take way too many books than not enough, so I was weighed down with 14 copies each of Hybrid and Hunted – literally as much as I could carry. And since I would be spending the con in 'wolf form' as part of a charity fundraiser we'd decided to do for World Cancer Day, it meant I had a hell of a lot of luggage to manage on public transport. I was already feeling the strain as I headed for the nearest bus stop, but being the stereotypical tight Yorkshireman, there was no way I was forking out for a taxi. So I struggled on.
Luckily the journey there was fairly smooth and the bus and then two trains weren't too overcrowded for once. As I neared Birmingham, Stacey messaged on Facebook to say she'd checked in to the Ibis Budget hotel but when she went downstairs for coffee (yeah, it was so budget that we had no coffee making facilities in our room) the power went, which meant she and a load of other guests were stuck in the lobby as the door to the stairs was operated by keycards. It seems the staff could sense the werewolf in their midst, since they offered everyone else free prosecco but stayed clear of her!
I arrived in Birmingham 4:30ish and looked up the hotel on my phone, then began walking. Of course the GPS started playing up when I was struggling along with my suitcase, carrier bag full of books and backpack weighted down by yet more books, so I soon worked up a sweat trying to navigate the city streets. Fortunately Lauren had also arrived and got sorted at the hotel, so she offered to pick me up and take us across to the con to set up, then go back to the hotel to dump my overnight stuff before we went to find somewhere to eat. She really saved the day, though it was still something of a performance trying to find a place where she could pick me up. I tried following signs in New Street Station for the short stay car park and pick up point, thinking that would be easiest, but after traipsing all through the building and trying different exits, I was forced to admit defeat and we made other arrangements. Needless to say I was well and truly knackered by this point so it was a relief when they pulled up on the street outside. There are days when I wish I could drive, and Friday was most definitely one of them.
At least setting up was fairly quick and easy, and we met the organiser, Victor Wright, who gave us some good advice. We didn't see much of him the next day but he came across as a really nice guy and a few of his books are now on my ever growing to read list.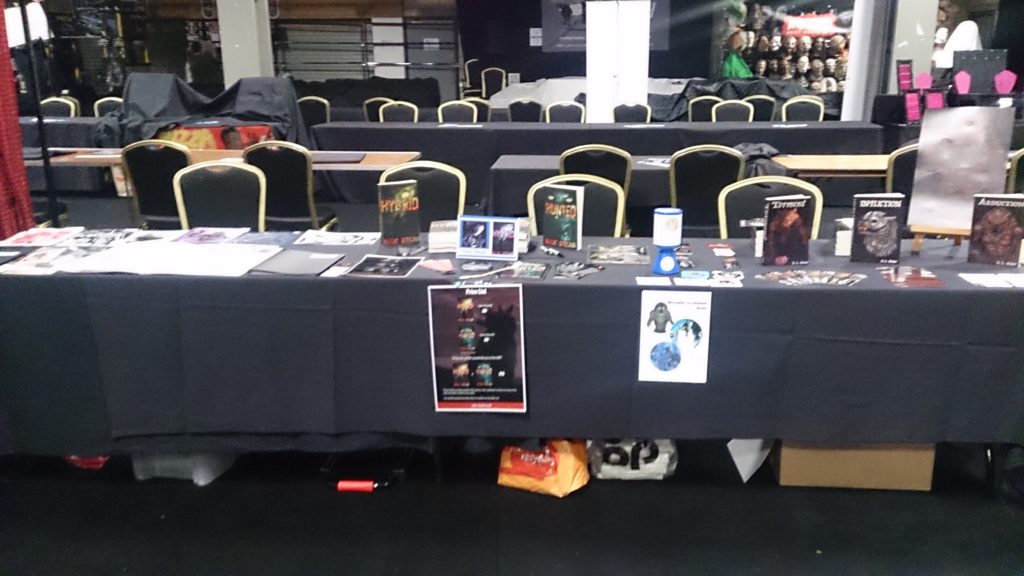 Finding a place to eat was something of a challenge since Lauren's not a fan of Chinese and we seemed to be in the Chinese quarter, but eventually we found a pub that looked like it might have something for everyone. We ventured in to find a big rainbow on the wall and there came the realisation we were in a gay bar, so we joked we might get kicked out for being straight. But our fears were unfounded and we were soon sat back enjoying drinks and banter, and some good food after waiting what seemed like an age. Then it was back to the hotel for the night.
Being two struggling writers and a struggling artist, we'd decided to share a room to cut down on costs. The she wolves took the double bed and I had the bunk bed, which I didn't realise needed making till we were ready to crash. True to its budget name, the room is possibly the most basic I've ever stayed in. The best way I can describe the toilet is probably a claustrophobic experience, as it was just a tiny box room with the toilet in and nothing else. Getting changed into our pyjamas in there was fun!
The sink was in the main room, just opposite the double bed, and the shower was just set into the wall at the side of the bed which looked a bit dubious, though it turned out the glass allowed for more privacy than it first seemed. Lauren braved the shower first, and with a yelp found out that not only had there been the power cut earlier, now the hot water was off! Stacey had intended to shower before bed as well but even though they assured us the hot water would be back on within an hour or so when we went down to ask about it, it was still running cold as we drew closer to midnight. In the end she gave it up as a bad job and showered the next morning.
I don't think any of us slept particularly well. I was still awake when the alarm went off, sounding out its most annoying alarm tone. Stacey had talked about setting one on her phone to go off slightly earlier than mine so we'd both have time to shower, and she'd said it was set to the theme tune of Penny Dreadful. I vaguely wondered why it wasn't the music from Penny Dreadful as I laid there expecting her to turn it off, only to find out that it was my phone making that annoying racket! Somehow I'd managed to set the alarm with the default tone instead of Alice Cooper's Welcome to my Nightmare like it was supposed to be. And I'd only had the one beer Friday night.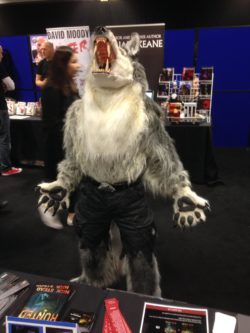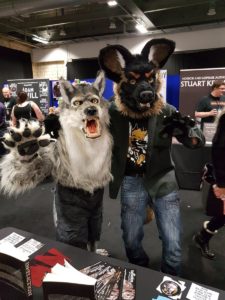 It was especially great to catch up with Prowler and Steve Bosworth of Hobby FX (check out his awesome fangs!). After the con, Prowler joined us for dinner and helped ferry everything back across to the hotel. There was another fun moment when we tried all three of our keycards to get into the room and none were working, despite the fact they'd worked fine for the lift moments before. It turned out they needed renewing after a day, something they neglected to tell us the day before when we'd checked in! But at least it was sorted pretty quickly and we were soon sat in the room, discussing where to go for food. We decided to eat at Jimmy Spices, thinking a 'world buffet' would have something to please everyone, though I was really disappointed to find the selection wasn't as great as the Solihull one we'd eaten in before. True to my wolfish nature, I just wanted some meat, but it was all in sauce or spices, which isn't for me, so I had to make do with fried rice and pizza. The others enjoyed it at least, which is probably as well after the sat nav took us to the restaurant, only to find there was nowhere to park, so Prowler reversed to turn around, not realising there were two fairly deep stairs behind us. Like a beached whale, the car refused to budge, even with our lycanthropic strength attempting to lift it. Only with the help of a big group of humans did we get it back on the road, hopefully without too much damage. Prowler was surprisingly calm through this particular ordeal, maybe because it was only a half moon.
The rest of the night was filled with booze and werewolf chat, and then came the sad moment when our pack had to part ways again and head to our different areas of the country, a moment which came far too soon. The weekend really flew by and I just wish it could've lasted longer, especially as I'm back to the boring paid proofreading work for the school now.
For a first con as traders I think the day went pretty successfully, but I think all three of us learned a lot about what we can do better in future. I'm starting to see the value in the big banners other authors have at cons for display by their table, and I definitely need to invest in some proper display stands for any future events I do, to make my books more noticeable. Still, this is only the fifth stall I think I've done in total and the others have all been fairly small, local events, so I don't think my table display attempt was too bad. I'm definitely going to look at doing more cons as a trader and I'm sure I'll keep on improving my stall with each one I do.